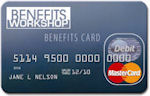 Ask about the
Benefits Debit Card
---
BenefitsWorkshop
Fast Access Menu

Tools to improve the financial health of your employees.
---
COBRA Proposal Request Form
---
Please complete the form below. It generally takes three to five business days for you to receive a proposal via e-mail. On occasion, we may have follow-up questions. We will submit these questions to you via e-mail. You may check on the status of your proposal by clicking any "Contact Us" button on this site.

If you need a non-standard proposal, a hardcopy proposal, or if there is a formal Request For Proposal (RFP), please complete the form, allow two weeks for processing in the due date field, and indicate in the special requirements in the Comment Section at the bottom of the form. Please send the RFP to the BenefitsWorkshop at the following address, via expedited mail, if the proposal is due in less than two weeks.

BenefitsWorkshop
P. O. Box 56828
Jacksonville, FL 32241
(904) 631-2629


Please enter the information below and press the "Submit" button. All fields marked with an asterisk (*) are required.
---
Copyright © 2009. All rights reserved. BenefitsWorkshop services are provided by JAG Enterprises, LLC.